OK, almost finished with the 300 mirrors.
All with zbar and security locks.
We are 9 short on the moulding, Roma ran out of the length boxes but they are going to chop the last 9 frames out of their stock on hand.
Otherwise we would have to wait for the next boat from overseas.
About half are Roma and the other half are Studio.
Here they are spread all over the back shop building where we also do laminating and dibond and plexi mounting.
They're everywhere...
Thank goodness we don't have to install them.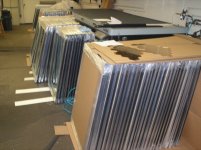 Last edited: