SGF, Supreme Grumble Framer
Week 3 after the Grand Opening...
For those of you who have been down this path, it will not surprise you at all to know that it was just this week that I finished bringing over the last of stuff from the old home to the new! Argggggg. Tomorrow will mark three weeks of business in the new location and business has been very good, with many old customers visiting the new "digs"...curious to see, wanting to congratulate, and shop. While it has also brought in a slew of new faces of people who simply never knew we existed!
Absolutely Amazing!
We didn't get a ton of pictures of the Grand Opening, but below was the morning ribbon cutting ceremony with the Fox Cities Chamber of Commerce folks (Don't you just love the default presentation of the certificate on the plaque!)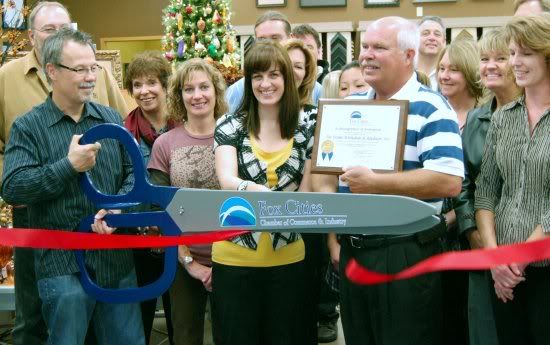 Sarah used real scissors behind the giant pair in my hands and Gary caught the ribbon falling away - Good shot!
That evening we had a wonderful turnout of about 150 folks, and a Gary Haren took this picture of our entire staff...
(left to right -- Pazong Thao, William Wright, Candy Waiter, Michelle Kittridge, Sarah Ranes, Jill Faddis, myself)
Bandsaw said:

.....Looking at the pictures of the Space Savers which you indicate you covered with fabric - do you have a strip of some sort screwed onto one corner of the triangle column to cover the fabric join? I'm looking at the left side of the 5th picture down on page 13.
Good catch, Bandsaw. The triangle turnstiles aren't sharp edged - they have a 1/2 inch blunt point. It was at one corner that I elected to have the fabric meet. I found a nice strip of aluminum at the hardware store designed as threshold trim. It comes 1/2 x 6 feet and pre-drilled - like it was custom made to finish my job!
I use small stainless steel screws to attach this rather than the included swirled finishing nails.
John